darwin Clearance stock
All items advertised are sold as is, being old stock, discontinued items, cancelled orders and ex-demo or display stock. Due to the nature of these items, it is possible that some may be missing parts or bolt kits. Pictures shown are not of the actual item listed, however are of the same item taken from the manufacturers catalogue and may show a different finish or colour option to the actual item. Prices do not include fitting and are for pick up from our Darwin store at 454 Stuart Hwy, Winnellie. Shipping may be arranged for an additional fee.
Finance not available on clearance lines.
Nissan Navara D40 Single Cab Airtec Snorkel - $250
011SAT0110M
Mazda Bravo 2/99 - 11/06 Diesel Airtec Snorkel - $250
011SAT0146M
Jeep Wrangler TJ V6 10/92 - 10/99 Safari Snorkel - $250
Toyota Land Cruiser 70 Series V8 T15 Alloy Bull Bar - $750
Holden Colorado RC T15 Signature Alloy Bar - $900
Ford Explorer 11/96-5/99 ECB Big Tube Bar - $500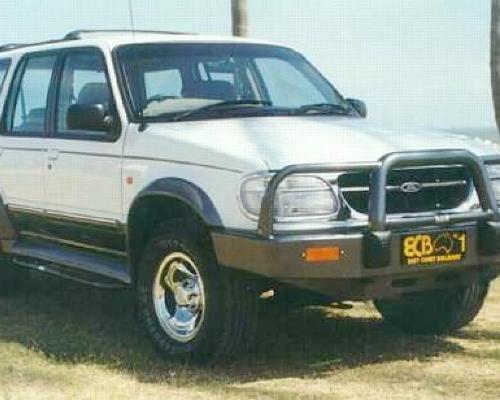 Ford Falcon FG XT/Ute & R6 5/08-7/10 ECB Big Tube Bar (Silver H/T) - $750
Land Rover Discovery Series 1 (drum type air clearner) Airtec Snorkel - $250
Mazda Bravo 2/99 - 11/06 Petrol Airtec Snorkel - $250
Holden Rodeo R9 3LTR T/D 1/02-12/02 Safari Snorkel - $250
Land Cruiser 73 Series 3B Diesel Safari Snorkel - $250
Mitsubishi Pajero NS-NT ECB Big Tube Bar - $750
Toyota Land Cruiser 200 Series GX/GXL 3/12+ ECB ARC Bar Winch compatable - $1000
}